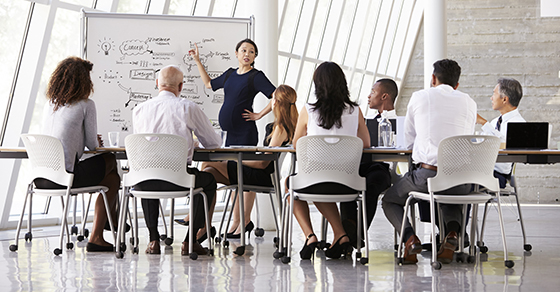 Diversity in a company's board of directors and its management team helps enhance corporate value. The Securities and Exchange Commission (SEC) already requires limited disclosures on boardroom diversity and has plans to expand these disclosures in the future — but diversity isn't just for public companies. Private companies can benefit from more diverse insights, too.
Benefits to Businesses
Getting input on major decisions from people from a wide variety of backgrounds and experience levels helps enhance corporate value. During a recent speech, SEC Chief Accountant Wesley Bricker said, "Diversity of thoughts diminishes the extent of group thinking, and diversity of relevant skills (for example, industry or financial reporting expertise) enhances the audit committee's ability to monitor financial reporting." Academic research has found that boards with diverse members have better financial reporting quality and are more likely to hold management accountable after poor financial performance. This concept also extends to private companies: Management teams with people from diverse backgrounds and/or functional areas expand the business's abilities to respond to growth opportunities and potential threats.
Financial Statement Disclosures
In 2009, the SEC issued Release No. 33-9089, Proxy Disclosure Enhancements, to set a number of disclosure rules, including the extent to which the company considers diversity in selecting board candidates. But several institutional investors — including the California Public Employees' Retirement System (CalPERS) and the New York State Common Retirement Fund — say the requirements don't provide enough information and haven't sufficiently increased diversity on corporate boards. Some investor groups want the SEC to require all public companies to disclose more detailed information about boardroom diversity. In 2016, the SEC's Advisory Committee on Small and Emerging Companies made a set of recommendations for improving the disclosure rules about the diversity of boards of directors. And, in May, Representatives Carolyn B. Maloney and Donald S. Beyer, Jr., sent a letter to SEC Chair Jay Clayton, urging him to take action on women's underrepresentation on America's corporate boards. Be a leader, not a follower In the meantime, some companies have voluntarily expanded their disclosures to meet these recommendations. These businesses openly disclose in their proxy statements the extent to which their boards are diverse in race, gender and ethnicity. We can help assess your level of boardroom or management team diversity — and provide cutting-edge disclosures that show your commitment to enhancing shareholder value. © 2017